SOFT SKILLS TRAINING PROGRAMS
INTERVIEW PREPARATION PROGRAMS
Suitable for: Public and Private sector Banks, PSUs, MBA/BBA, Private Company Jobs
Interview Preparation Training Programs helps you to prepare for
Personal Interviews. The programs are designed by professionals and
customised according to the purpose.
COMMUNICATION SKILLS PROGRAMS
Suitable for: Professionals and Individuals
Communications Skills is important for success in both personals and
professionals life. The Communications Skills Training Programs helps
your to develop your communication with individuals and groups. The
programs includes the art of public speaking.
PERSONALITY DEVELOPMENT PROGRAMS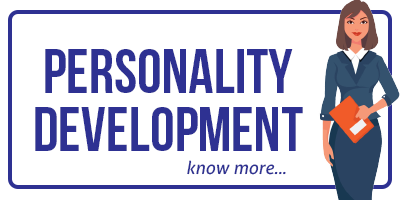 Suitable for: Individuals and Professionals
Personality Development
Training Programs helps you to present yourself better, both personally and professionally. It works on communication skills,
etiquette
and presentation skills. The program can be customised for specific individuals.
Suitable for: Fresh Graduates, Job Seekers and Working Professionals
Job Readiness Training Programs makes you ready to face the professionals world. The program works on your Communication Skills, helps you to prepare for Personal Interview & Group Discussions and develops your Personality to suit professional environment